Dia de Muertos – Day of the Dead, has its origins with the Aztec civilization, more than 3,000 years ago. The Aztecs believed the passing of a loved one should not be cause for grief, rather should be a time to celebrate that person's life.
When the Spanish missionaries arrived in the 16th century, they attempted to quash the indigenous spiritual beliefs and to establish Catholicism in Mexico. The early native practice of honouring the dead was a month-long celebration which took place in August.  Over time, the customary ritual intermingled with Catholic teachings and the month-long August celebration was shortened and changed to November 1st and 2nd, thus connecting to the Christian All Saints Day and All Souls Day.  The belief evolved from the blend of religions that the souls of the deceased would return once a year to visit the living.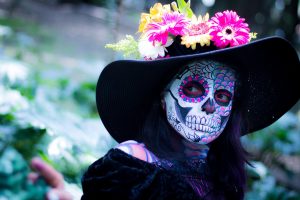 November 1st is devoted to the angelitos (little angels) the deceased babies and children, while November 2nd is to honour adults who have passed. Families gather at the gravesides in the cemetario for an all-night vigil to reunite with their departed loved ones, first cleaning and decorating the graves and building altars to display items that honor the deceased person. Picnics and parties abound with music, flowers, food and drink, offerings to the deceased to guide them on their long journey from the other side, and a sharing of memories, anecdotes or funny stories.
Dia de Muertos is also celebrated with processions, religious ceremonies, music and food. Some will gather in the plaza to honour the lives of their departed loved ones. The Ajijic plaza is a great place to experience the public festivities. It's where you'll find altars, ofrendas and exhibits, music and mariachi bands, traditional dancing, people with skull masks or painted faces walking around and many food vendors, of course.